Posted by Nikki Kay on 5th Nov 2015
"What do I get someone who already has everything?"... its the question that has been asked over and over. Whether this is the case for you, or maybe you're on a tight budget and are looking for a thoughtful DIY gift for a loved one, you're in the right place! A food gift is a great option, because really...who doesn't love a good sugar fix. Another awesome thing about this is that there are thousands of things that can fit in a jar. Then add some ribbon or a bow and a personalised label, and you've got yourself a lovely little present. Here are my top 3 picks -
Hot Chocolate Spoons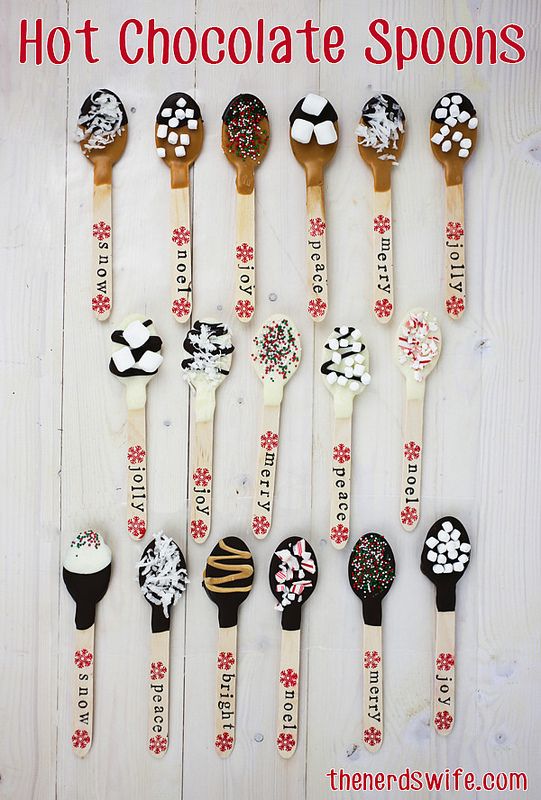 Source: http://thenerdswife.com/hot-chocolate-spoons.html
What you'll need
Disposable wooden tablespoons
Labels or stickers for decoration
White, milk or dark chocolate
Your choice of toppings and flavours
Wax paper

Method
1. First of all decorate your spoons and get them looking gorgeous! You could use stickers, stamps or even small jewels.
2. Melt the chocolate in 30 second intervals in the microwave or on a stovetop. Whatever you prefer.
3. Dip the spoons in the chocolate and lay on wax paper to set. Top with other ingredients before the chocolate sets.
4. Allow them to set, or put them in the freezer to speed up the process.
Suggested flavours and toppings
Peanut butter
Coconut shavings

Ice Cream Sundae Kit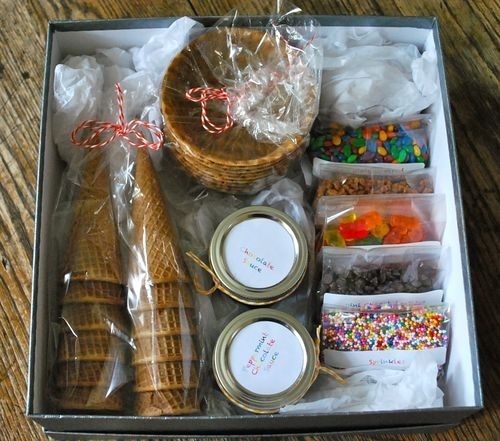 Source: http://www.buzzfeed.com/peggy/38-ways-to-give-the-gift-of-food-this-season#.djMVAYnWMg
What you'll need
Waffle cones and or cups
Small bags of toppings (see below for suggestions)
Small tubs or jars of sauces
A decorative box
Suggested toppings
M&M Cookies in a jar

What you'll need
A wide mouth mason jar
1 1/2 cups M&M's
1/4 cup white sugar
2 cups plain flour
1/2 tsp baking soda
1/4 tsp salt
3/4 cup brown sugar
Ice cream scoop (to pack down each layer)
Method
Simply layer the ingredients in the mason jar using the ice cream scoop to pack down each layer of ingredients. Top off with a bow or ribbon to add a little flare.
Make a label with the following instructions:
Make a label with the following baking instructions:
1. Preheat your oven to 180ºC.
2. Empty the contents of the jar into a large bowl and mix well.
3. Add 3/4 cup of softened butter and fold through with a wooden spoon or using your hands.
4. In a smaller bowl, beat 1 tsp of vanilla extract with 1 egg, then add to the dry mix.
5. Place equal sized amounts of the mix onto a tray lined with baking paper.
6. Bake for 10 - 14 minutes and enjoy!