Posted by Nikki Kay on 13th Sep 2015
Halloween is just around the corner...and we've got plenty of ideas to get you excited! I love this version of a dessert pizza. Play around with the toppings and add whatever is left in the house, or recreate this Halloween inspired version. Watch this space for lots of Halloween recipes, crafts and other ideas to come...
Halloween Cookie Pizza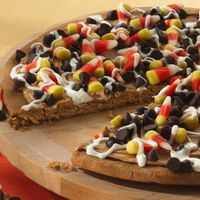 Photo source: spoonful.com
Base:
1 refrigerated cookie dough roll
Toppings:
1/2 cup smooth peanut butter
1 cup Candy Corn
1/2 cup chocolate chips

1/4 cup white chocolate
Method:
1. Bake base following instructions on pack.
2. Spread an even layer of peanut butter on the base and spread the toppings evenly.
3. Melt the white chocolate in a microwave proof bowl in 30 second intervals.
Be sure to share your version with us on Instagram! #professorsrecipes